Dr. Nicole Gurbal – Owner
Dr. Gurbal received her Doctor of Optometry degree from The New England College of Optometry and her Bachelor of Science from Florida State University. She completed a post- graduate residency in Pediatrics and Vision Therapy at Southern College of Optometry. During this residency she gained experience working with children, diagnosing and managing common eye disorders found in the pediatric population, and successfully implementing vision therapy programs for both adults and children. In 2010 Dr. Gurbal received her Fellowship through the College of Optometrists and Vision Development (COVD).
From a very young age, Dr. Gurbal had always had an interest in the field of optometry. As a young child, she suffered from many reading problems, and it wasn't until she enrolled in a vision therapy program that she began to realize what her passion in life was. The benefits or vision therapy did wonders for her, and now she is fully committed to providing the service to help strengthen children's vision as it relates to academics and athletics.
Dr. Gurbal is an active member and the Georgia state coordinator of the College of Optometrists in Vision Development (COVD), American Optometric Academy (AOA), the Georgia Optometric Association (GOA), and the Optometric Extension Program Foundation (OEP). She is the currently the InfantSEE Chairperson for the state of Georgia. As chairperson, she attended the first InfantSEE Summit meeting in Dallas in 2007. She continues to educate the public about the InfantSEE program by incorporating information about the program in health care clinics throughout Fulton County. It is her goal to expand this knowledge throughout the state. Dr. Gurbal is also a member of Neuro-Optometric Rehabilitation Association (NORA). Through this membership her knowledge and practice has grown to better treat patients diagnosed with traumatic and acquired brain injuries.
In 2008, Dr. Gurbal was honored with the Georgia Young Optometrist of the Year Award. As a developmental optometrist, she continues to expand her knowledge by attending optometric conventions, participating in research, and attending continuing education courses. She enjoys volunteering her time and knowledge with the Special Olympics to provide eye care on site at events, along with volunteering, she is passionate about expanding the knowledge of Developmental Optometry and Vision Therapy to other clinicians, educators, and the community.
Dr. Gurbal currently resides in Marietta, Ga, and likes to spend her spare time outdoors with her 2 kids Asher and Mable as well as her husband Chris.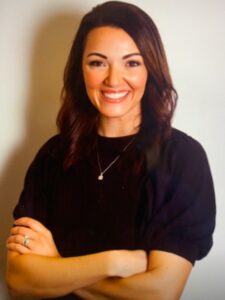 Adriana Bush – Head Vision Therapist
Adriana was born in Garden City Kansas, and raised in Lakeville, Minnesota. After graduating high school Adriana attended Iowa Lakes Junior College to continue her softball career. After receiving her Associates in Arts Degree she transferred to St. Cloud State University in St. Cloud, Minnesota. In 2011 Adriana graduated with her Bachelors Degree in Psychology and Early Childhood Development.
It was in Adriana's high school years when she was introduced to the world of vision therapy. Adriana was diagnosed with convergence insufficiency and binocular vision disorder her junior year.  She attended vision therapy sessions at McDonald Eye Care Associates in her home town, where she later started her vision therapy career. Adriana played softball throughout childhood and at the collegiate level. She noticed immense benefits in both her academics and athletics, and realized it was due to the visual improvement she had gained through Vision Therapy. While attending her last year of college Adriana felt led to work in patient care along with wanting to share her story and help others who encountered road blocks due to visual deficits.
         Adriana has been working as a vision therapist since 2011. She started her therapy career in Minnesota while completing courses through the Optometric Extension Program (OEP). She has studied: Learning Related Visual Problems, and Visual Dysfunctions with additional education of Sports Vision, Strabismus and Amblyopia. Adriana has worked with patients of multiple age groups and with diagnoses of: A.D.D., A.D.H.D, Autism Spectrum, Dyslexia, and Post Concussion. Adriana has expanded her academic learning with College of Optometrists in Visual Development, for amblyopia and strabismus cases as well as to focus on traumatic brain injuries, and acquired brain injuries. She is a member of the Neuro-Optometric Rehabilitation Association which factors in the care of patients who have visual deficits as a result of physical disabilities(cerebral palsy, multiple sclerosis, paralysis, and other neurological disorders). Adriana is passionate about the treatment she provides while considering all aspects of each individual patient. 
        Adriana resides in Roswell with her husband Alex, their two sons, Brooks and Beckham and dog, Maverick. She enjoys traveling, being outside, and entertaining at home.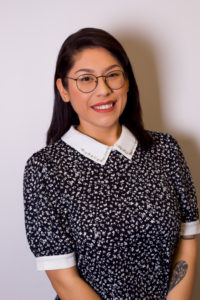 Karen Rendon – Vision Therapist
Karen joined our team May 2019. She comes to Vision Performance Center with 7 years experience in the eyecare field. Having worked in all aspects of the optical business from optometric technician, optician, optical manager, to now vision therapist.
Her favorite part of her job is working with children and helping them learn how to use their visual system proficiently. Each individual patient and each session introduce a revelation, a new challenge, and a new accomplishment. She values each patient independently and enjoys the tailored approach that VPC allows her to use during therapy.
Outside of VPC Karen enjoys spending her time with her partner Carlos and 3 daughters: Abigail, Sophia, and Dahlia.